Hello my name is Lex I am a creative facilitator, movement and visual artist, permaculture designer and yoga teacher. I facilitate and design workshops, courses and retreats throughout the UK and internationally. I have 25 years of Professional practice in the arts which allows me to bring a unique flair to the art of creative facilitation.
My work is based on connection and interconnection of self, community and the earth. Being deeply passionate about inclusivity and diversity, my practice promotes regeneration and connection with an aim to support all lives to truly grow with vitality and vigour.
My professional background and experience is in Theatre of the Oppressed, street theatre, circus, design, art, mime, mask, puppetry, Sign Language, music, yoga, evolutionary movement , trauma release, meditation, Deep Ecology, Permaculture and nature connection.
I bring fun, freshness, creativity, depth, sensitivity, embodiment and an innate sense of play to groups and individuals. I enjoy working in a range of places including arts centres, businesses, hospitals, schools and retreat centres.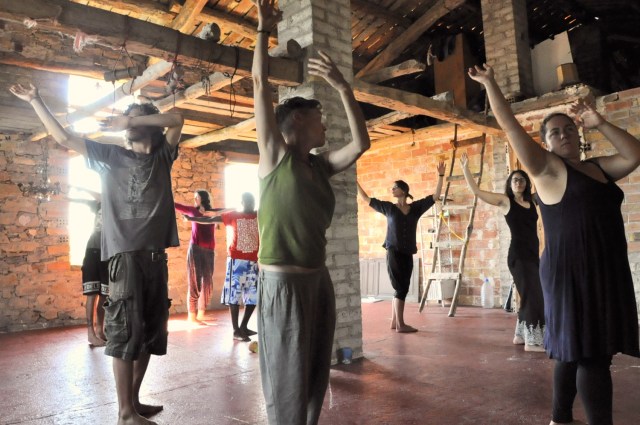 Based in Lewes, UK, I work closely with the ONCA network (https://onca.org.uk/), Movingsounds (movingsounds.org) and ReBoot the Roots (https://www.facebook.com/rebootroots/). I also work regularly with the EcoDharma project in Spain www.ecodharma.com. In 2016, I co-facilitated at EcoDharma on the Theatre of the Oppressed training and co-designed and facilitated the 'Creating Resilience' course at Eroles(https://eroles project.org) a partner project of EcoDharma, for refugees and people working in refugee camps. This year I will be co-facilitating a 9 day workshop at EcoDharma for TGEU -Transgender Europe ( tgeu.org) entitled 'Sustaining Resistance and Wellbeing'.
After training with Jon Young – 8shields.com and Looby McNamara loobymacnamara.com, in 2016 along with an international team of facilitators, I am now dedicating time to run Cultural Emergence training workshops internationally www.movingsounds.org/CE .
I am Anglo-Irish and grew up in Yorkshire, UK and on the family farm in County Offaly, Ireland. I have a deep connection with nature and draw on the freedom of childhood days climbing trees and running around on the farm. This spirit shines through in all that I share in life and working practice.